---
Issue 15: October 2005
Interview with Lawrence Zazzo
(countertenor)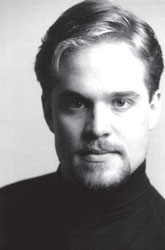 René Jacobs recently described American countertenor Lawrence Zazzo as 'maybe the best countertenor now on the stage'. Zazzo (LZ) has several recent Handel recordings under his belt (Serse with William Christie, Partenope with Christian Curnyn and Saul with René Jacobs), and in September 2005 met David Vickers (DV) at a Borders bookstore near Leeds (Yorkshire, England) to drink coffee and talk about Handel.
---
DV: What is your first memory of Handel's music?
LZ: I was in the Philadelphia Boys Choir, but thinking back to the repertoire, we didn't do any Handel. We did Bernstein, a lot of folksongs, Orff's Carmina Burana, some Bach even, but we didn't do any Handel. I didn't do Messiah until High School: the tradition was at the end of the Christmas musical extravaganza we always did the Hallelujah chorus. So that was the first time I heard any Handel: the Hallelujah chorus at Christmas, with everybody standing up.
DV: How did your familiarity with Handel's music increase?
LZ: The change in the perception came from listening to the King's Singers and getting more into countertenors. From there, I got an LP of King's College Choir doing Messiah with James Bowman – that famous recording which I still love. I just finally got it on CD a few weeks ago and I hadn't listened to it in about 10 years, and I still love it. I fell in love with the section about 'refiner's fire' – the Guadagni aria – and so I sang 'But who may abide' in a vocal competition during my senior year of High School. I was 17 years old and that was the first time I had ever sung publicly as a countertenor. I won a prize to go to Westminster Choir College, which I didn't take, but it gave me the encouragement that I could do something with the countertenor voice. But what really blew me away was probably singing with a choir in Dixit Dominus during my sophomore year at Yale [University], with Yale Camerata.
DV: Did you study music at Yale?
LZ: I studied English Literature. I took some very rudimentary music classes while I was there, but I did lots of singing in choirs. I sang in a close-harmony group called the Whiffenpoofs – I don't know if you've heard of them over here in England, but they're like a barbershop group which actually started in 1912, long before the King's Singers. It features Yale seniors who do a lot of close harmony stuff and things from The Yale Songbook. So I was doing a lot of popular song, but my exposure to Handel was very slow.
DV: So when did you first perform Messiah?
LZ: It could have been in a choir I suppose, but I don't think it was until I was at Cambridge, singing in the Clare College Choir under Tim Brown. We did Messiah with René Jacobs at the Karlsruhe Handel Festival, which featured Andreas Scholl in one of his first solo outings. This must have been in about 1995. And so my career is sort of going in circles because I'm just about to do a concert tour with René and Clare College Choir, in which I'll be sharing out the alto solos with Patricia Bardon. I don't know who is going to get which arias, but I'm hoping René will give me 'But who may abide'. You never know what he'll do, except that it will be something interesting.
DV: So you chose to be a musician rather than an English Literature academic?
LZ: I think my singing just kept pulling me, and at a certain point I thought 'Before I die I want to sing in a Cambridge choir'. So then I had the opportunity to have a scholarship to study at Cambridge for 2 years. I could have done a Masters in English, but I chose to do a second BA [Bachelor of Arts] because I really wanted to study music. I also thought it would be a good place for me to study choral conducting because a lot of my life has revolved around singing with choirs. So I went to Cambridge and sang in Clare College Choir, and also in King's College Choir for two terms.
DV: Did you do any academic work on Handel?
LZ: I studied a little with the Handel scholar Andrew Jones over at Selwyn College. And I did some work on Samson, but funnily enough it wasn't really about Handel. It was really Milton that brought me closer to Handel. I did my Yale thesis on Milton's Samson Agonistes, so at Cambridge I thought it would be good to compare that to the libretto of Handel's Samson. So it was really a libretto study more than anything. Unfortunately, Handel's Samson doesn't really have a major role in it for countertenor, unless you count Micah. There are some beautiful arias, which I can certainly sing. So it would be really lovely to do Samson having studied it. It's such a great piece.
DV: Do you think it was a good thing for you to be drawn more into Handel's music by a piece that doesn't have an obvious countertenor role? Did it give you a rounded appreciation of Handel?
LZ: Yes, maybe. But to be honest at the same time as I was doing my work on Samson I gave a recital at Cambridge as a solo countertenor. As part of that I did the mad scene from Orlando, which I fell in love with. I compared different recordings and approaches to the music. I interviewed Christopher Hogwood about tempi and stuff like that, and he couldn't really remember much about it - which at that time I thought was a bit odd because he said something like 'Oh, James [Bowman] takes a tempo, and we just follow him!' Which seemed so unscholarly when I heard that, but now, having the experience I've had since, I can totally understand where he was coming from. I couldn't tell you why certain tempos are taken for certain things. I just listened to the new Saul I did with René and I can't remember much about it! It seems like it was done 10 years ago already, so listening to it in the car on the way here just brought it all back. But Orlando is definitely a role I would love to do. The idea of madness and a 5/8 bar in baroque music is fascinating!
DV: What was your first encounter with Handel's operas?
LZ: While at the Karlsruhe festival I went to see a production of Ezio, which I thought was a fantastic opera. I particularly loved the production, which was very modern and adventurous: at one point the bass character [Varo] was conducting the orchestra from the stage, and all sorts of crazy stuff was going on. After that, my next experience of Handel opera was singing the title role in Arminio at the Royal College of Music during the London Handel Festival. I'd been having voice lessons as part of my choral scholarship at Cambridge, and my teacher David Lowe was about to join the faculty at the Royal College of Music, which made me think 'I need to pursue this'. Just like I'd been decided I wanted to sing in a Cambridge Choir, I felt like I had some potential and wanted to see what I could do. René Jacobs listened to me sing at around this time and was very encouraging. So I thought 'I need to try this'. Luckily in my first year at the Royal College of Music they were doing Britten's A Midsummer Night's Dream and Handel's Arminio. So A Midsummer Night's Dream was my first opera ever, but I was there as just a postgrad student – I wasn't even on the opera course and wasn't even thinking of going into opera. I had been thinking that I would mainly be doing church music and oratorio. I hadn't been on a stage since I was a boy, when I had done a lot of children's musical theatre: Jack and the Beanstalk, Aladdin, and that kind of thing! I didn't go near the stage during high school and wasn't interested in drama at all. My madrigal group had dressed up in renaissance costumes, but we were just doing the music. But then at the Royal College I got bitten by the stage bug again, and it felt so natural to me. It was so interesting to integrate all of the different disciplines. So I did two operas in three months from never having done any before. It was a baptism of fire!
DV: What was good about performing in the London Handel Festival?
LZ: I had nearly a year to prepare for a role. I started learning Arminio in October and the production was in March, so I had the resources of the college and the coaching to get me through it – which you don't always get in opera productions. And also language coaching. The Britten Theatre is a good size for Handel, although it could be better acoustically. Also in the London Handel Festival you have good players – Denys Darlow conducted it, but Lawrence Cummings and Paul Nicholson were the continuo players, which was fantastic experience. I went for coaching with Paul Esswood and James Bowman, and also used arias in master-classes with Michael Chance. So all that was useful too.
DV: Who was your main teacher at the Royal College?
LZ: David Lowe – a tenor! I've never really been taught by another countertenor. The only exception is Nicholas Clapton, but no other countertenors have really given me voice lessons per se. To me it's not so important a voice type, as long as the teacher has good technique and likes countertenors. Some teachers don't identify with the voice. I had one teacher who kept trying to get me to sound like her, you know, a big mezzo voice, and I came out worse. Whereas my current teacher Russell Smythe is a baritone, does a lot of singing as well as teaching, really likes countertenors and loves the repertoire. He's very interested in trying to get me to sing with my voice with as much efficiency as possible, and not trying to get me to sound like somebody else. So the last couple of years have been really good. I started with him right before I did Serse with William Christie, which was really helpful for me to prepare for Arsamene because it lies that much higher in the voice than Senesino roles. I think I'm more of a Senesino singer.
DV: A lot of countertenors say that about Senesino. Is it because the range is more comfortable?
LZ: But I think my voice really does lie in the right place for it. A lot of countertenors say that they like Senesino roles because the high notes in other castrato roles are too difficult, but I can get the low notes out: my voice is rich down there. For instance, the role of Ottone in Monteverdi's L'Incoronazione di Poppea is difficult for a lot of countertenors, but it isn't so difficult for me: my voice feels very comfortable down there. But I would certainly say that a lot of the Senesino roles are perfect for me. That's why I want to do Orlando…
DV: Although you've not recorded any Senesino roles yet apart from Barak in Deborah.
LZ: Is that true? Let me think about that – My God, you're right! But I've just done Fernando[1] for Alan Curtis, and that was a Senesino role. But there are a lot more Senesino roles for me to get to!
DV: Deborah was the first Handel recording you made, but before that you'd recorded Pergolesi's Stabat mater?
LZ: The company I did that with went out of business, and I think they sold it to another company. I think you can also get it on DVD. I saw it in Germany for only about 4 euros! I still get calls from people in America because before the company went bankrupt they made several DVDs: I did a Purcell thing with Clare College Choir, the Stabat mater, Britten's 'Rejoice in the Lamb'. And these got sold to public TV stations in America, which get shown on hundreds of obscure channels. So I still get calls from people who say 'Oh, I'd been out and got home from my drinking binge, put on the TV at 3am and there you were singing angelically to me in this church with a bouffant hairdo!'
DV: Actually, I have to admit I've seen some of the Purcell programme on the Performance Channel…
LZ: My Dad saw the Stabat mater on the Catholic Channel during Lent.
DV: So you started making recordings pretty early on in your career?
LZ: I was quite lucky in that I'd already done a lot of recordings at Yale with my close harmony groups, so being in a studio and doing different takes, being under that kind of pressure with a microphone right in front of you, wasn't really so new to me. So I was a little bit less terrified of the microphone, although I have to say that part of the challenge of doing a recording is forcing yourself to take risks. Even when the microphone is in front of you, you should not sing safe. So I think it's very important that you do these pieces in concert. The ideal way is to do a concert tour or a staging as much as possible. That's what I've done for all the recordings I've done with René Jacobs. A lot of musical decisions are made because of the staging, and not necessarily talked about from just looking at the score first. But when it comes to recording, that dramatic flair is there, it is already worked into your voice and everybody knows what they are doing. There's none of the carefulness and worry about finding your way in a piece. Or you can do it in concerts and it's similar. Or maybe both – I think Saul could be staged really easily, so it would have been nice to have staged it. But I think we wound up with a very dramatic recording. But Deborah [with Joachim Carlos Martini] was a semi-live recording, so it's not perfect. I haven't listened to it in years, and I'm not sure I want to – it was recorded based on two performances in a church and a patching session, which was scary. Serse with Bill Christie was live, recorded over three performances, with several days of patching. But the best option is to do a staging and then go into a studio.
DV: Like with René Jacobs' Rinaldo?
LZ: Like with Rinaldo, and also Alessandro Scarlatti's Griselda.
DV: Several conductors seem to like giving you fairly high castrato parts.
LZ: Or parts that were written for women! Goffredo in Rinaldo is incredibly low, but it was written for a woman. Arsamene in Serse was written for a woman too, but that's higher. I've just rehearsed Serse for an upcoming revival at ENO, and I did the production with Bill Christie 3 years ago. Coming to this revival of Nicholas Hytner's iconic production, I kept wrestling with the English translation which does not always match the original Italian text. What was explained to me was that Nicholas Hytner was trying to bring out certain nuances in the characters, and one of the things he was trying to bring out was the rivalry between the two brothers. Sometimes you can forget that Serse is Arsamene's brother, and that there is an element of competition between them for Romilda. I had originally thought of my role totally in terms of my sexual jealousy and protectiveness, my fear that she would betray me with somebody else. Whereas now I'm really starting to approach it from a sense of rivalry with my brother. It isn't so much that I don't want Romilda to have anyone else, but I certainly don't want her to have my brother!
DV: It is a particularly manipulative jealousy on the part of Serse. In a lot of good productions you get the feeling that Serse knows exactly what he is doing: that he knows his brother loves Romilda, and that he enjoys playing a cruel game…
LZ: Yeah, maybe the bigger brother is always taking things away from Arsamene.
DV: How do you approach singing Arsamene? There is no denying it is a high role for a countertenor to tackle - did you have to adjust your technique at all?
LZ: It was a struggle at times – but it was a good struggle: it's one of those roles that really stretches you rather than it being something you shouldn't have done. It was a challenge, but I really expanded the top of my register so now I feel a lot more comfortable up there. It isn't a role which I can just roll out of bed and sing, but it is a role which certainly stretches me and that I have to work into my voice. But it was great to come to terms with that and face that. So when I came to do Jonathan Dove's opera Flight this summer, which is extremely high and has lots of E naturals all the time – which are sometimes more difficult than Fs – it wasn't so difficult and I didn't lose my voice because I could approach it the same way. Arsamene is one of those roles which stretches your technique, and, gosh, you get some fantastic arias.
DV: What was it like going from Serse to Partenope?
LZ: There's a lot of parallels in the characters: the cross-dressing, the rivalry and competition between three very different men for one woman. Although if I was going to do Partenope again I'd like to think more about Arsace's relationship with Armindo, and it's also interesting when Rosmira briefly passes herself off as a fourth suitor.
DV: Both Serse and Partenope were adapted for Handel from old librettos by Silvio Stampiglia. In both those operas you see Handel portraying relationships in a way that is superficially comic, but the operas are actually quite profound in their exploration of love, jealousy and reconciliation.
LZ: Partenope is much more of an exploration of erotic and romantic love. Serse is partially that, but I'm becoming much more interested in the non-romantic relationships in Handel. That comes much more to the fore in oratorio, where you have family relationships or friendships. In Serse you have the jealous brother relationship, which I find quite interesting. You can contrast that with the relationship between David and Jonathan in Saul, which is not a jealous relationship at all – David essentially takes the kingship away from Jonathan, who is quite happy for that to happen.
DV: Jonathan is the perfect model of humility, which I suppose was the whole point about his character.
LZ: Yeah, not being covetous. And covetousness also goes into the romantic relationships in Handel. That's why I think the sexual jealousy is such an important part of Serse. It isn't just that Arsamene doesn't want anyone to have Romilda, but most specifically that he does not want his brother to have her! There's a point in Act 3 when Arsamene says that he adores Romilda, and it is almost as if it is a surprise to him! It is a moment when he realises that 'this is actually about you, and our relationship – not just my brother!' But the non-romantic and non-erotic relationships are fascinating too. I'll be doing Tolomeo in Giulio Cesare next year and I just saw it at Glyndebourne. There is the relationship between Tolomeo and his enemy Giulio Cesare, but also between Tolomeo and his sister Cleopatra. The brother and sister fighting…
DV: The squabbling siblings…
LZ: … and a lot can depending on how it's staged. They way David McVicar stages it, there is a cringing moment where Tolomeo is almost raping his sister, when he almost goes to French kiss her, and you just think 'Urgh! That's brother and sister', but it portrays a relationship that has clearly gone wrong. It isn't a healthy relationship.
DV: It is interesting to consider what you said about erotic or romantic love in Italian opera compared to oratorios. If you look at David and Michal in Saul, romantic love in oratorio tends to be very chaste in comparison. Even in Theodora, the love relationship between Didymus and Theodora is uncompromisingly virtuous.
LZ: There is also the friendship between Didymus and Septimius that I find fascinating. Although Saul is unusual in that David's relationship with Michal is not all that real. It seems like an invention. His emotional relationship with Jonathan is much more believable. Some people say that it's homoerotic – 'more than woman's love thy wondrous love to me' always gets a few giggles from people. But this is a kind of idea that love exists between brothers, friends or comrades which is lost on us these days. Also you have relationships between fathers and sons, or fathers and daughters. Just having become a father myself, it has made me start to think about these relationships more. If I went back and did Rinaldo again I would have a totally different approach to Goffredo's relationship with Almierna. You know, 'Sorge il petto' is a love song, but it is a love song to his daughter. He hopes that he is going to get his daughter back.
DV: Handel excels at the parent – child relationship. Samson is another example, with Manoah's love for his son.
LZ: That's beautiful. And also in Jephtha.
DV: And also in Belshazzar, where Gobrias' grief for his son shows the legacy of a parent's love even though the child has been murdered before the oratorio starts. Handel isn't just about boy meets girl stories.
LZ: Also look at Nerone and his mother in Agrippina. It often seems that mother and son relationships are very fraught. They can often be very problematic. Later in the oratorios, relationships are often much healthier and more wholesome. The restoring of family relationships seem to interest Handel a lot more as he has got older. Maybe it is just the librettists creating that impression and Handel just works with that, but also maybe Handel thinks 'Gosh! Maybe now I can portray a healthy relationship for a change!' The enemy is not within because it's now externalised: the Philistines, Dagon, Chemosh.
DV: Chaste and virtuous love in the oratorios isn't supposed to be less strong than the erotic love in the operas, but instead is a strongly idealistic thing opposed to the agonised complexity of sexual relationships. Maybe that is something to do with the difference between Protestant oratorio librettists and the Italian opera librettists.
LZ: I think that there is a lot to be said for that. That a lot of the erotic feeling is externalised or put into other places by the Protestants. There is little in Saul that is sexy, but I find it really hits you because of the family relationships. It is something that everybody can connect with. When you portray a love relationship in opera and you see two people screaming at each other and then kissing, it is sometimes very hard to make that real. What you can really make real is family relationships.
DV: With the complexity of relationships in mind, does this make you wish you'd had the chance to stage Partenope rather than just record it?
LZ: Certainly. There are a lot of nuances in Arsace's relationships with others that I'd really like to explore. That's one thing I've talked with René about – I'd love to see him stage Partenope. I think it would be a great opera for him to do. The thing I like about Arsace is that he is not an entirely likeable character. Some characters, like Ottone in Agrippina or Arsamene in Serse, are such good guys. You often get that in Handel, but you sometimes want them to be a bit meaner. Arsace is not such a great guy. He's gone after Partenope, you don't know why he has abandoned Rosmira…
DV: I think there is something of Rosmira's manner of gaining revenge that makes you guess why Arsace has deserted her. I think that is one reason why the opera is so compelling: all of the characters, including Rosmira and Partenope, are not perfect people: apart from Armindo, the really perfect guy who gets the girl in the end!
LZ: Arsace is a playboy grown up. He's played the field, but has realised 'Gosh, that original girl – she's the one I really want after all'. So he settles down, but not until he's had some really great arias – the sleep scene and 'Furibondo' – so it would be really to do those things on stage because that is where I get a lot of my musical inspiration. Almost all of my Handel work has been on the stage. Partenope was done in sessions, which was certainly a different mode of recording. You have to be super concentrated and stay on your feet, making music and being inspired very quickly, still taking risks but knowing that you only have a limited time. It's totally different to when you've done a staged production, when there is more of focus on getting the perfect take and really refining small details. Although with that kind of luxury the danger is losing the intensity and making it too safe, slowing things down and failing to keep that dramatic pace. Whereas when you have a limited recording session, and you're all meeting each other for the first time, there is that intensity where you are just making things happen. But you have to be as prepared as you can beforehand, so I tried to do as much as I could.
DV: But Christian had conducted Partenope in the theatre several times already.
LZ: Well, this helps a lot. The thing I liked most – and I haven't with a lot of young British conductors – was his excitement about the drama and his willingness to let me sing. He was willing to accommodate me as a singer, and to let me go for certain dramatic effects. I see this more with the newer generation of directors, who are willing to think about drama. Christian really knew the opera, and was advising a lot on the characters and that helped. But there is a lot of recitative as well, which is really difficult to do without doing a staging and taking it straight into the studio. But I think the recording was a fantastic tribute to the musicianship of the people involved that they were able to put together a performance like that in such a short space of time.
DV: Have you listened to Partenope again yet?
LZ: I find it very difficult to listen to recordings for years after they come out. I really don't even go near them because I'm too close to them. With Griselda, it took me a year to listen to it – and then I was really happy with it! But sometimes you just think 'Oh, I could have done that better'. It's like reading reviews. When I do an opera I don't read any of the reviews until afterwards. I wait until it's over and I get the press pack, so then you can read it and then think 'Hmm, that's true', or 'that's a good point but I really disagree with that'. It gives you a bit more perspective because if you read bad reviews while the opera is still running they make you insecure and then you start trying to change things, or if they're good they just puff you up too much and you get complacent. So I don't really find reviews helpful. But afterwards sometimes they have interesting things to say – occasionally!
DV: René Jacobs is very much based on drama, although he can be controversial when it comes to musical style.
LZ: That depends on who you ask. He is someone who can certainly do a nice brisk tempo, and yet make it sound dramatic – as you can hear on Saul. What is the Handel style? To me, this music is about having an elegant veneer, an over-arching style, which every so often is punctured completely and goes crazy. It is this whole idea of the mad scene – the idea of having a convention but then breaking it. That's how this music works. If you never puncture through it, it all seems a bit safe and a bit staid, a bit boring. But if you puncture it too many times, then it starts to unravel. I think René really gets the balance right. Maybe some people find him too over the top, but I think he is willing to make it a bit crazy and kitschy. He always makes it exciting, and I don't think you could ever say that he in unaware of style. I think he really knows a lot. He knows enough to know that he can beyond normal expectations. He always says to singers that he wants us to take risks. He risks going slightly too far – but with so many good recordings of Saul already out there, why not do something strange and different?
---
Discography (as of October 2005):
Celebration of the Spirit (Britten Rejoice in the Lamb and Bernstein Chichester Psalms); The Choir of Clare College, Cambridge; Timothy Brown (cond.); Columns Classics (also on Brilliant Classics DVD)

Goehr: Arianna; William Lacey (cond.); NMC

Handel: Deborah; Joachim Carlos Martini (cond.); Naxos

Handel: Lotario (extracts); Paul Goodwin (cond.); Oehms Classics

Handel: Partenope; Christian Curnyn (cond.); Chandos Chaconne

Handel: Rinaldo; René Jacobs (cond.); Harmonia mundi (France)

Handel: Saul; René Jacobs (cond.); Harmonia mundi (France)

Handel: Serse; William Christie (cond.); Virgin Veritas

Pergolesi: Stabat mater; Timothy Brown (cond.); Brilliant Classics DVD

Purcell: Sacred Music; The Choir of Clare College, Cambridge; Timothy Brown (cond.); Columns Classics (also on Brilliant Classics DVD)

Scarlatti, A.: Griselda; René Jacobs (cond.); Harmonia Mundi (France)
Forthcoming:
Handel: Fernando; Alan Curtis (cond.); label to be confirmed
Relevant Links:
Lawrence Zazzo: http://www.lawrencezazzo.com
Clare College Choir : http://www.clare.cam.ac.uk/life/choir
Harmonia mundi: http://www.harmoniamundi.com
Early Opera Company: http://www.earlyoperacompany.com
Les Arts Florissants: http://www.arts-florissants.com
Yale Whiffenpoofs: http://www.yale.edu/whiffenpoofs/
---
[1] Ed.: Handel altered Fernando to Sosarme during the composition process. Despite some conjecture, the reason why Handel altered the character names, location and title of the opera are not known. Alan Curtis has reconstructed the original version using evidence from the autograph manuscript.
---