---
Issue 9: June 2003
Interview with Bernard Labadie
(Director of Les Violons du Roy)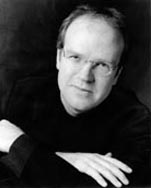 ---
Introduction: Bernard Labadie ("BL") is director of the chamber orchestra Les Violons du Roy, which is known for its particularly stylish performances on modern instruments. David Vickers ("DV") spoke to him about his interest in baroque performance shortly before a European tour with countertenor David Daniels.
---
DV: How did you first hear Handel's music?

Apart from the early recorder sonatas which I loved to play as a kid (recorder is the only instrument I ever played!), my first major encounter with Handel happened in 1984 when I conducted an abridged version of L'Allegro, il Penseroso ed il Moderato with a bunch of singers and instrumentalists from the School of Music at Laval University in Québec, where I was an undergraduate student. I was 21 and it turned out to be one of the events that changed my life - this was only my second experience as a conductor (I had conducted Purcell's Dido and Aeneas the year before and I was about to do Monteverdi's L'Incoronazione di Poppea). These early experiences convinced me that this is what I had to do in life and they led to the foundation of my orchestra in the Fall of 1984.
DV: And was Handel an early part of Les Violons du Roy's repertoire?

I basically founded my orchestra in order to accompany my choir, which at that time was not called La Chapelle de Québec yet - La Chapelle was founded in 1985 as an exclusively male ensemble. The School of Music at the university had a large number of very gifted singers (I was one of them, except for the "gifted" part...) and it led me naturally to choral and orchestral repertoire, which was my primary love - mainly Bach, whose music was (and still is) my passion. However one of the first concerts I gave with my choir and Les Violons du Roy was Handel's Dixit Dominus which has remained a favorite of mine ever since. I was completely taken by the richness and boldness of the writing... I can still see me on the podium conducting the Et in saecula saeculorum fugue at break-neck speed and wondering if we would make it to the end! (which we eventually did, but maybe not all at the same time...)
DV: I suppose you have also done Messiah a few times…
I conducted Messiah for the first time in 1987 and I have conducted it over 50 times ever since, both with my own groups and as guest conductor with many distinguished North American orchestras (Minnesota Orchestra, Detroit Orchestra among others... - the L.A. Philharmonic is due in 2004). This is a piece that I know in and out and of which I never get tired - I'm very much afraid of the "same-as-last-year syndrome" and I try to maintain a fresh approach every time. I remember vividly the performance I gave with La Chapelle de Québec and Les Violons du Roy at Massey Hall in Toronto two years ago which was a fabulous experience - one of those concerts that remind you why you chose this life. The reaction from the audience was completely wild and very un-Torontonian...
DV: What aspects of Handel's music are you particularly attracted to?
I still have a very soft spot for L'Allegro, il Penseroso ed il Moderato, which I consider one of his most original creations - the moods, the orchestral colors, the Purcellian atmosphere mixed with the unmistakable lyricism of Handel's italianity, all of this has some kind of magic effect on me. I used to feel less inspired by the more formal or conventional repertoire like the Coronation Anthems (though Zadok the Priest has always spoken loud to the theatre person in me) but this is changing with time as I feel and I am touched by the poetry surging in the more massive constructions. Speaking of which, Israel in Egypt is another one I'm dying to do - this is coming in 2004-2005, for the 20th anniversary of my orchestra and choir.
I'm especially attracted by Handel the opera man, whose hand is obvious even in the most modest trio sonata. In the upcoming year I will conduct Orlando and Alcina for the first time. Having done a lot of later operas in the past years (as an opera conductor I also have a "romantic life" and I do Verdi, Puccini, Bizet, Humperdinck and the likes), Handel's efficiency as a dramatic composer leaves me bowled over more and more. Yesterday on the train I was studying Orlando and I was struck again by the weird opening to Zoroastro's first scene... even Rameau didn't match that!!!
DV: Are there any Handel works that you enjoy listening to, but wouldn't wish to perform?
Haven't encountered a single one yet!!!
DV: When you established Les Violons du Roy what was your vision of what you wanted the orchestra to be? How has that vision evolved over the last decade or so?
We were all extremely young at that time (1984) and thank God we had no idea what we were doing and what the difficulties ahead would be. Québec is a strikingly beautiful city (by far the closest to Europe one can get in North America) but remains a rather small city, and even though we have always received tremendous support from the town (the mayor saved the orchestra a couple of times...) and the cultural milieu, developing a local orchestra in a small place and turning it into an internationally known ensemble able to compete with the best (mostly European) groups was and still is a huge task. There is no relationship whatsoever between the quality and dedication of our players (who play for us full time roughly half of the year) and the living they can make from it. Keeping our musicians (two of them have been with me from the very beginning, and many others have been around for 7, 8 or even 10 years) is one of the greatest challenges ahead of us.
The pride and sheer pleasure of what we are doing is certainly more than ever the main asset of the orchestra. Many of our players could make a much better living while playing elsewhere but choose to stay with us because of the general artistic commitment, which cannot be compared with what one can experience in most Canadian orchestras. Of course we have our tough moments (and we certainly had our share of growing pains) but there is a sense of family and ownership in both the orchestra and the choir that cannot be compared with anything I have encountered as a guest conductor. I'm always happy to go somewhere else and work with some fabulous musicians and great orchestras, but it never gives the me the satisfaction that working with Les Violons du Roy and La Chapelle de Québec has given me over the past 19 years.
DV: It has become relatively well known that Les Violons du Roy play on modern instruments but use baroque bows, technique and style where appropriate. Do you admire period instrument performances, or do you think that approach is more important than playing gut strings in a non-historical way?
As a recorder player I grew up thinking that Frans Brüggen was God himself, and until the age 18 I was interested exclusively in Baroque music performed on period instruments... I have followed (and still follow very closely) the evolution of the European Baroque scene (the North American one being unfortunately a lot less interesting) and I still buy CDs on a regular basis from the Herreweghes and Minkowskis of this world. I conduct period instrument orchestras whenever I can (I will have my debut with Nic McGegan's own Philharmonia Baroque in San Francisco next season). But I also firmly believe that the instrument is NOT the style. The word "instrument" has the word manus ("hand") in it - in the same way the hand is an extension of the body, the instrument is an extension of the musical mind and obeys it. Style lives first and foremost in the heart and soul of the performer. Like so many I have heard some unbelievably stylish Bach on the piano and some utterly unmusical Handel on the harpsichord. I have put down some reflections on the performance practice movement in my liner notes for our recording of my own arrangement of Bach's Goldberg Variations for DORIAN - you might like to look it up to hear me talk a little more extensively about it.
DV: But was your decision for Les Violons du Roy to play on modern strings a conscious artistic policy, or a practical decision enforced by the players you had available?
First it was a practical one - it was unthinkable to gather from scratch a top-notch group of people in a small milieu like Québec and expect them to earn a living on a baroque instrument... So we introduced the baroque bows in 1988, and somewhere in the back of our head (at least in the back of mine...) there was the idea of switching to the old instruments a little later. But very soon we got caught in it - the mix of old and new became our personality, and the reactions from audiences and critics were extremely warm to this mixed approach. What was seen originally as a compromise became one of the most striking features of our personality... Now there is no question of changing the formula. We always keep the modern instrument, but we switch bows (baroque, classical or modern) depending on the repertoire.
DV: Do you think use of modern instruments gives you an advantage, or do you think it doesn't matter as long as the spirit of interpretation is the most important priority?
Using a mix of old and new has its advantages and shortcomings. Touring the Americas the way we do is not always compatible with the nature of the old instruments. We cover huge distances and temperature changes can be extreme. To give you an example, last January we toured Ecuador (South America) and then the United States, making our way up from Santa Fe (New Mexico) to Kingston (Canada). In three weeks, we had conditions ranging from 39 degrees Celsius and 90% humidity in Guayaquil (Ecuador) to minus 20 degrees in Iowa... Unless you travel with a case full of spare gut strings and a violin maker permanently available to readjust your instrument, it is almost unthinkable to use period instruments - especially original ones.
But beyond that I think there are strong artistic advantages too. While touring we perform a lot in large halls - the power and brilliance of the modern instruments is then a strong asset. Pitch is rarely a problem (musicians from many European cities in the 18th century used a pitch as high or even higher than 440) except for French music with vocalists and some specific repertoires intended for a very low pitch (like some of Bach's secular cantatas from the Köthen period). With time we have learned to tame the brilliance of the metal strings and make them sing with a velvety core inside their steel structure. Moreover, this combination gives us a sound that is instantly recognizable. Very often friends tell me that they turned on the radio and they recognized my orchestra after 10 seconds... How many orchestras (modern and baroque alike) are like that?
Of course there are negative sides too. Mixing the sound of modern winds with our strings is difficult - it took us a long time to find oboe, bassoon and flute players who would have the flexibility to change completely their way of playing and try to adapt it to the period style (as a frequent guest conductor with modern symphony orchestras, I can assure you that "killing" the principal flautist's vibrato is a nearly unmanageable task!). For some repertoires it creates limitations that are almost impossible to overcome - we do very little French Baroque because of that. I believe the color of low-pitched wind instruments is almost essential to the spirit of Lully, Charpentier and other early French Baroque composers. The later ones, who assimilated more Italian influences (Rameau, Leclair, Rebel) can be approached much more successfully with modern instruments. But in the end it always goes down to how you use them...
DV: Do you perform baroque music at a general "Baroque" pitch?
No, we use the standard modern pitch. It also allows use to mix music from different eras in the same program, which we like to do once in a while. A month ago, Jean-Marie Zeitouni, our assistant conductor, led a tour where everybody was playing Purcell, Vivaldi and Locatelli on baroque bows in the first half, and they all switched to modern bows for Elgar and Britten in the second. You suddenly have the impression that a different orchestra came in and replaced the previous one!
DV: Which musicians have most influenced the way you think about baroque music?
The conductor who had the more influence on my conducting is undoubtedly John Eliot Gardiner, with whom I studied briefly in 1991. I think his Handel and Purcell are unsurpassable. Whatever he does, you hear a great musical mind at work. You might like or dislike the result, but you can never question the commitment to re-invent and recreate the music. This is what a conductor's job is all about.
DV: Your current tour is with countertenor David Daniels, and you've worked with a lot of highly respected singers. Which ones have you most enjoyed working with?
I work A LOT with singers - as an ex-singer myself (albeit a very bad one - I had a nice octave, as I like to put it politely...) this is very natural to me. In the upcoming years we will tour with three of my favorite singers: David Daniels, Magdalena Kozena and Karina Gauvin. Whatever perfect their technique can be, with them it's always about expression. We are (fortunately) done with the nymphs-and-shepherds style of singing baroque music (though some of them were and still are quite good). Among the other singers I admire a lot are Dorothea Röschmann (with whom we worked and recorded in the early 90s before she became the great star she is now), Anne Sofie von Otter and Ian Bostridge.
DV: Your only Handel recording so far is the disc containing Apollo e Dafne and Silete venti. How was that disc put together?
The recording was made after two concerts in Quebec and Montreal. Coupling these two pieces was my idea - I think they complement each other very nicely, and quite frankly I also thought there was not a whole bunch of good versions of these two pieces out there. We found out why while doing it: they are so difficult!!! First and foremost for the singers, but basically for everybody - the solo violin part at the end of Apollo e Dafne is a genuine killer, and there is some very tricky writing for double reeds, even on modern instruments.
I chose the soloists myself - nobody could sing this music better than Karina, and I chose Russell Braun for Apollo (in spite of his limited experience in Baroque repertoire) for the combination of freshness and sheer testosterone this unique role demands (Russell has plenty of both...). We recorded at the lovely Françoys-Bernier Hall at the Domaine Forget, a music academy established in the Charlevoix mountains by the St. Lawrence River about an hour and a half away from Québec - the setting is so beautiful there that it becomes a source of inspiration as well as a safe haven of beauty between sessions. Sessions were long and very intense - we make a lot more than what is customary in the business (we needed a good 4 days to record the whole program). I humbly believe it turned out very nicely and I'm very proud of this one.
DV: Your latest recording is Mozart's Requiem. Does your approach to historically aware playing also extend to the way you direct choral forces?
Absolutely. As I explained earlier, doing the choral/orchestral repertoire was the primary motivation behind the foundation of Les Violons du Roy. This is still the repertoire that ignites my spirit the most.
DV: Do your future plans involve more Handel?
Believe it or not, there is a very strong pressure on us from our record company and our audiences across North America to do a new... Messiah. I know this sounds hardly original... But I honestly believe we do a very special one, and we intend to record it in 2005, hopefully in our own hall in Québec (le Palais Montcalm) which is supposed to be entirely refurbished for us in the upcoming years.
---
Relevant Links:

Les Violons du Roy's website: http://www.violonsduroy.com

Dorian CD label's page: http://www.dorian.com
---