The Newly Discovered Musical Composition by Handel:
Gloria in excelsis Deo
Gloria in excelsis Deo (HWV deest; "deest" in latin means "missing", as in missing from the Handel thematic catalog) is a newly discovered work by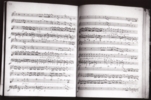 Handel and

was found at the Royal Academy of Music's (RAM, London) library. The manuscript -- not in Handel's hand but bound in a collection of Handel arias owned by singer William Savage (1720-1789) and left to the Academy by his student RJS Stevens on his death in 1837 -- was identified by Professor Hans Joachim Marx of Hamburg, Germany. Handel may have composed it during his early years in Germany prior to his departure for Italy. Handel later borrowed from the Gloria to compose Laudate pueri dominum and Utrecht Jubilate. (Click here for the RAM's press release.)
The work is composed for soprano, 2-part violin, and basso continuo. (It is not a choral work as erroneously reported by The Times. See below.) It consists of 7 movements and when performed lasts approximately 15-20 minutes.
A modern edition is available from King's Music. (For information about this edition, click here.)
On 11 June 2001 Bärenreiter issued an edition of the Gloria; it is edited by Hans Joachim Marx.
The August 2001 issue of Early Music includes an article/paper written by Professor Marx titled "A newly discovered Gloria by Handel" (pp. 343-52).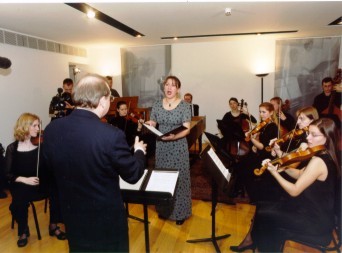 The first private performance (albeit incomplete) of the Gloria (Domine Deus and Quoniam sections only) was given by soprano Rebecca Ryan, other students of the Royal Academy of Music, and Nicholas McGegan (conductor) in London on 15 March 2001.
The world premiere, full public performance of the Gloria was given by Patrizia Kwella (soprano), Fiori Musicali, and Penelope Rapson (artistic director) on 18 May 2001 at the Hinchingbrooke Performing Arts Centre in Huntingdon, England.
Other noteworthy performances:
3 June 2001: The International Händel Göttingen Festival. Dominique Labelle (soprano) was accompanied by the Philharmonia Baroque Orchestra (San Francisco) and Nicholas McGegan (conductor).

7 June 2001: St Marylebone Parish Church, Marylebone Road, London. Rebecca Ryan (soprano), the Royal Academy of Music Baroque Orchestra, and Laurence Cummings (conductor).

22 July 2001: Killaloe Music Festival (near Limerick), Republic of Ireland -- the Irish premiere. Mary Nelson (soprano), the Irish Chamber Orchestra, Nicholas McGegan (conductor).

15 September 2001: Berkeley, California. North American premiere. Christine Brandes (soprano), the Philharmonia Baroque Orchestra, and Nicholas McGegan (conductor). A special program "in support of the victims of the terrorist attack and their loved ones."

13 October 2001: Toulouse les Orgues (festival). Sophie Karthaüser (soprano), European Union Baroque Orchestra, Roy Goodman (conductor)

21 October 2001: The Handel Choir of Baltimore.

17 November 2001: Italian premiere in Milan. Lynne Dawson (soprano), Ensemble Réjouissance.

17 January 2002: The St. Paul Chamber Orchestra (Minneapolis/St. Paul, Minnesota) under the direction of their new Baroque Series Director, Nicholas McGegan.

18 May 2002: The Bach Sinfonia (Washington, DC) under the direction of Daniel Abraham.
---
Available Recordings
For more information about recordings, please visit the new releases page.




The BIS label recorded the Gloria in Excelsis Deo on 3 May 2001 with Emma Kirkby, The Royal Academy of Music's Baroque Orchestra, and Laurence Cummings (conductor). This recording is coupled with a re-issue (11/86) of Handel's Dixit Dominus with singers Hillevi Martinpelto and Anne Sofie von Otter and the Drottningholm Baroque Ensemble and Anders Öhrwall (conductor). The catalog number is BIS-CD-1235, and was released in the UK on 4 June 2001.




Gillian Keith (soprano), The English Baroque Soloists, and Sir John Eliot Gardiner (conductor) recorded the work for Philips in June 2001; together with Handel's Dixit Dominus and Vivaldi's Gloria (RV 589). This recording was released in October 2001.




The Göttingen Handel Festival and Society have released a live recording (from the 3 June 2001 gala performance) of Handel's Gloria in excelsis Deo with Dominique Labelle, soprano, The Philharmonia Baroque Orchestra, and conductor Nicholas McGegan.

Suzie LeBlanc (soprano), L'Académie Baroque de Montréal (period instruments), and conductor Alexander Weimann present works by Handel, JS Bach, and Vivaldi.
ATMA Classique ACD2 2215

Julianne Baird (soprano), The Queen's Chamber Band (period instruments). Lyrichord Early Music Series LEMS 8055
---
Press about the Gloria
(in reverse chronological order)
(Please be aware that erroneous statements exist in some of these articles.)
Christian Science Monitor
29 June 2001
A lost Handel score is discovered - or is it?
By Benjamin Ivry - Special to The Christian Science Monitor

(NEW YORK) A new recording of a previously unidentified work by Georg Friedrich Handel (1685-1759), the composer of Messiah, Saul, Israel in Egypt, and other beloved baroque hits, has the music world in a controversy that is nearly too hot to, well, handle.
In March, a manuscript score in the library of London's Royal Academy of Music was identified as that of a previously unknown work by Handel. The 16-minute Gloria for soprano and orchestra was found by Prof. Hans Joachim Marx of the University of Hamburg in Germany, in a collection of arias by different hands, including Handel. Experts date the score to about 1707, when Handel left his native Germany for Italy.
The score has been recorded for BIS records (on BIS-CD 1235 or see www.bis.se) and features veteran British singer Emma Kirkby accompanied by the Royal Academy of Music Baroque Orchestra (www.ram.ac.uk).
Yet despite these joyous events, some dissident voices are being heard.
Penelope Rapson, leader of the British music group Fiori Musicali, which gave an early live performance of the Gloria, finds the piece "a good one and well worth performing," but does not feel it is by Handel. Ms. Rapson explains that "it is curious" that this work should survive in the library of someone from Handel's circle without the composer himself having a copy, as Handel was "meticulous about keeping manuscript copies of his music."
Among other oddities, she notes that "the music lacks the sure touch of Handel. Even early Handel ... has a direction and harmonic drive, which this piece in places lacks. Handel's writing for the voice is more sympathetic." She observes that parts of the Gloria "are both ungrateful to sing and lacking in overall harmonic and structural direction."
Other listeners disagree. Curtis Price, a musicologist and Principal of the Royal Academy affirms, "Basically, every Handel expert that I know of believes this to be by Handel because the Gloria includes passages that occur in other Handel works, because the style is right for Handel circa 1707, and because one of the manuscripts in the Royal Academy Library (hitherto overlooked by most scholars) actually attributes the piece to Handel.
"What convinced me, upon first looking through the manuscript several months ago, was the Qui Tollis section. This is vintage Handel, even though he composed it when only 21 or 22!"
Indeed, the Qui Tollis movement is reminiscent of the well-known chorus All We Like Sheep from Messiah.
Prof. Michael Talbot, a Handel expert at the University of Liverpool in England, says, "I was convinced of Handel's authorship by the style alone, and information from Professor Marx received since then ...makes me even more certain," Professor Talbot says. "The evidence should convince even the doubters."
The discovery has also opened the field to some energetic Handel bashers, mainly in France, where the disdain for Handel is unlikely to be altered by this new discovery. Eminent Parisian music critic and author Jacques Drillon says that even in Handel's most famous works, the composer was "a baroque version of the Spice Girls...."
Other, less wildly insulting listeners admire the Gloria as music, without worrying about who wrote it.
The soloist herself, Ms. Kirkby, agreed to record the Gloria, she reveals, not because of the Handel attribution, but because the score looked "interesting, varied, and rewarding to sing, not unfamiliar in the context of other Handel church pieces I have sung."
Kirkby says that the piece has individuality and charm, good bravura moments, and, more important, some moments of depth, beauty, and poignancy.
"Everything, in short, that one might expect of a Gloria in the hands of, at the least, a great craftsman," Kirkby says.
Kirkby finds the current controversy "partly amusing, partly regrettable [that] a 16-minute piece of fine music is burdened with the hopes and insecurities of so many people - academics, record companies, even journalists."
If someone manages to prove beyond doubt its authorship, Kirkby won't mind.
"I'll be delighted," she says, "either by the thought that we have one more piece of [his], or, if not, that the real composer will be identified after all this time."
---
Guardian (London)
4 June 2001
London debut for newly found Handel score played
Maev Kennedy, arts and heritage correspondent
Musicians from the Royal Academy of Music have been rehearsing in Handel's old home in London, for the delayed English premiere of his Gloria in Excelsis Deo. George Frederick Handel is about to have a sensational week, albeit three centuries late.
The world premiere of the 15-minute piece, which was found three months ago, was given yesterday at the Handel Festival in Göttingen in Germany. It is released on disc today by the academy's Baroque Orchestra. On Thursday the academy will give the first known British performance - unless Handel hummed it at home in Brook Street.
The discovery of a major seven-movement composition, whose existence was unknown to music historians, was both a source of rejoicing and acute embarassment to the academy. It was found by a leading Handel scholar, Hans Joachim Marx, not in a dusty attic, but bound in a volume including several Handel arias, in the academy's library.
The Hamburg scholar's attribution has been backed by international experts.
Curtis Price, principal of the academy, described the music as "fresh, exuberant and a little wild in places, but unmistakably Handel," adding that it was "embarassing that such an important piece was found under my nose".
The Gloria is believed to have been a commission in 1707 from Handel's wealthy patron, Francesco Maria Ruspoli, when the composer was working in Rome. The manuscript, however, is a much later transcription in another hand. It is thought to date from 1730, when Handel was already well established in his comfortable new house in Brook Street.
It is possible that the piece had a previous unrecorded London performance at Brook Street. Handel is known to have held recitals there.
The house, a few yards from Bond Street, was rented and the composer lived modestly, possibly deceptively so. An Italian visitor who dropped in unexpectedly, was invited to share a simple supper. Half way through the meal the composer leapt up, said he had had "a thought", and rushed to a room at the back of the house. His visitor tiptoed to a window with a view of the back room, hoping to see the composer at work - only to see him feasting on roast duck and Burgundy.
The performance, with the Baroque Orchestra and soloist soprano Rebecca Ryan, will be at St Marylebone parish church, and will be used to raise funds for the Handel House Museum, which opens in November and the academy's new exhibition centre.
---
Independent (UK)
16 March 2001
Handel score gets first performance
By Michael Church
A memorable week for Handel included the first presentation yesterday of a previously lost work discovered in the Royal Academy of Music.
The performance of the German composer's Gloria followed the revelation on Wednesday that Mozart's re-working of his oratorio Judas Maccabaeus had been found in a local authority archive in Halifax, West Yorkshire.
Yesterday Professor Curtis Price, principal of the Royal Academy in London, presided over the presentation of a fragment of Gloria which had been found in the academy on a piece of microfilm.
Performed by the soprano Rebecca Ryan and academy students under the baton of Nicholas McGegan, the first two movements of the piece rang out all the more thrillingly for having been unheard since 1725. The rest of Gloria must wait until the BBC bring back their recording from Göttingen, Germany, in June. This was more than enough to whet the appetite; the soprano lines soared as only Handel's can, their ornamentation held in lucid control. It may be an early work, but it is vintage stuff. Professor Price said it was possible more finds could be made.
These are interesting times for Handel in London. Starting next week, the Royal Academy and Royal College of Music will host the annual Handel festival. In May – as revealed by The Independent – the Covent Garden Festival will stage a production of the opera Clori, Tirsi, and Fileno in a gay nightclub in London. Finally, the house where Handel lived in London for 36 years – 25 Brook Street – is due to open in the autumn as the Handel House Museum.
---
"All Things Considered" (National Public Radio)
14 March 2001


Interview with Nicholas McGegan about the Gloria
---
The Times (London)
14 March 2001
Glory in this Gloria
By Rodney Milnes
Rehearsals for a Handel work that has been gathering dust for 200 years are currently taking place
There are two big questions to be asked about the Handel Gloria that has resurfaced in the library of the Royal Academy of Music. The music has been sitting there for more than a century bound into a volume of otherwise exclusively Handel arias. It has been available on microfilm for more than ten years. So why did no one spot it before? No wonder that its discovery by a German scholar has left Curtis Price, the Academy's principal and himself a distinguished specialist in Baroque music, in a state of slight embarrassment.
Still, for a day or two at least, it has made the Academy the centre of the musical world, which must warm the cockles of any principal's heart.
The second — and bigger — question is, is it really, incontrovertibly by Handel? When the big guns of scholarship are united, it is not for a journalist to cast doubts. Nor would I dream of doing so, having heard the last movement in rehearsal.
It looks like Handel, it sounds like Handel and, for heaven's sake, it must be Handel. The fact that the soprano soloist from New Zealand, Rebecca Ryan, the conductor Laurence Cummings and his Academy students were all having such a good time at yesterday's rehearsal for tomorrow's preview playing through the finale again and again would tend to support the attribution.
For nearly 300 years, musicians have loved performing Handel: there is an exhilaration in meeting the challenges that he sets that gives enormous satisfaction as well as pleasure.
And the challenges are formidable. As I wrote on Monday, the first and last movements of the seven-section Gloria look incredibly difficult on the page, and so they are in practice. The vocal writing in the Quoniam section is characteristically florid, apparently leaving the singer no opportunity to draw breath.
It was fascinating to hear Cummings asking the bass players to relax the rhythm very, very slightly so that Rebecca Ryan could snatch a gasp.
But you can understand the temptation to keep on pounding through: the way the tempo doubles at "cum sancto spirito" is incredibly exhilarating in a peculiarly Handelian way. Just as exhilarating is the gentle counterpoint in the brief duet passage for soprano and solo violin, the sort of effect that has Handelians clutching their sides with hedonistic, near-guilty pleasure.
Before getting too carried away it is worth emphasising that this is not, as some newspaper headlines and even the BBC's Today programme have suggested, a "new Messiah".
It is a short, 15-minute piece for solo singer (in the soprano range) and string accompaniment. Scholars agree that it dates from 1708-9, when the 22-year-old Handel, or "il caro Sassone" (the dear little Saxon) as the Italians hailed him, was perfecting his trade in Rome.
Assorted cardinals were commissioning liturgical music from him, and this Gloria may be among these commissions. A more important patron was Prince Ruspoli, in whose palace Handel was based for much of those two years and for whom he was turning out dramatic cantatas at the rate of one a week.
Many of these were first performed by Margherita Durastanti, the soprano who was also based at the palace and accompanied the household on the summer jaunt to Ruspoli's estates at Vignanello. She later followed Handel to Venice, where she created the title role in his first big operatic success, Agrippina, and indeed to London, where she sang in many of his operas (as did the bass William Savage, from whose collection this Gloria comes).
Were Handel and Durastanti having an affair in Rome? Who knows: Handel kept his private life resolutely private, but it is probably unlikely.
Charles Burney described Durastanti as "coarse and masculine" (which was fodder for the fatuous was-Handel-gay school of musicology. Who cares?) and the librettist Rolli said she looked like an elephant. And who knows who first sang this Gloria? Durastanti had sung in Handel's marvellous oratorio La Risurezzione [sic.] and got into frightful trouble with the Pope. Women were not allowed to sing sacred music, and certainly not in church. She was threatened with a flogging.
So maybe the Gloria was first sung by a castrato, and today it is the likes of David Daniels and Andreas Scholl who should be chasing after it, not Angela Gheorghiu.
Professor Price thinks not. He plumps for Durastanti, noting that B flat — in which the Gloria is basically set — was a key in which Handel frequently wrote for her.
So what next? The last movement that I heard yesterday will be performed by the Academy of Music's students at a private press conference tomorrow to launch the programme for this year's Göttingen Handel Festival. The Academy emphasises the word "private", by invitation only, lest rabid and excluded Handelians stage riots in the Marylebone Road.
Nicholas McGegan will conduct the whole piece at Göttingen in June. That is fitting. It was at Göttingen in 1920 that the Handel revival got under way with a performance of his opera Rodelinda, and since it seems that Göttingen is losing out in the battle for funding with Halle, the second full-scale Handel festival in Germany (just one in Britain would be nice).
So it needs every fillip it can get. Meanwhile, there will be a race to get the first recording out. It really is that good, and it is a privilege to have been in at its rebirth.
---
The New York Times
13 March 2001
A previously unknown choral work by Handel has been discovered by a German music scholar. It will receive its first known complete public performance when it is played on June 3 at the Handel Festival in Göttingen, Germany, by the San Francisco Philharmonic* Baroque Orchestra, led by Nicholas McGegan, a Handel expert. The work is Gloria in Excelsis Dio, found by Hans Joachim Marx of Hamburg University while poring through manuscripts at the Royal Academy of Music in London. Handel (1685-1759) lived in London for 36 years. Portions of the work, whose discovery was made public yesterday in London, are to be performed at the Royal Academy on Thursday.
*erratum: should be "Philharmonia"
---
The Times (London)
12 March 2001
Handel scholar finds the new 'Messiah'
By Dalya Alberge, Arts Correspondent

A German music scholar yesterday recalled the moment that an undiscovered choral work by Handel appeared in front of his eyes "like a ray from Heaven".
Hans Joachim Marx was trawling through manuscripts at the Royal Academy of Music in London when he stumbled on the original composition, which is expected to become as significant as the composer's Messiah.
Professor Marx, of Hamburg University, said that the discovery of Gloria in Excelsis Deo in a tightly bound collection of the composer's aria sent his heart racing. The seven-movement work for soprano and strings is thought to have been composed in Rome in 1707.
Scholars have confirmed its authenticity and liken the find to the discovery of Tutankhamun's tomb for the musicologist.
"The music is very virtuosic, very expressive and full of effects," Professor Marx said. "I realised its significance immediately. It was a wonderful feeling, a great moment. But I thought, I have to do a lot of work to prove it." Professor Marx, acting chairman of the Handel Society in Germany, said that he could not wait to hear it performed.
Experts predicted that it would become one of Handel's most loved pieces.
Handel (1685-1759) lived for 36 years at 25 Brook Street in Central London, where he composed Messiah and Music for the Royal Fireworks, and filled the building with live concerts, workshops and exhibitions. Because it is not documented that he wrote a Gloria, there is no way of knowing if the work was performed. The manuscript is thought to have been owned by William Savage (1720-1789), a friend of Handel, who sang for the composer as a boy treble in the operas, then as an alto and, by the end of the 1730s as a bass in his operas and oratorios.
The manuscript is an English copy from the 1730s and may be in Savage's hand. It was through Robert Stevens, a student of Savage, that it made its way to the academy in the 19th century.
Extracts from the piece will be heard at the Royal Academy of Music on Thursday before the work's first full public performance, at the International Handel Göttingen Festival 2001 on June 3. The BBC will be recording it in July.
At Göttingen, Dominique Labelle will be the soloist, with the San Francisco Philharmonia Baroque Orchestra conducted by Nicholas McGegan, a Handel specialist. He said: "The Gloria is a gorgeous work, beautifully composed. It will achieve a great popularity. This is the Tutankhamun discovery for a musicologist."
Michael Talbot, Professor of Music at the University of Liverpool, said: "The quality of the work is so high that it will surely join the ranks of Handel's most loved music. For sopranos it will become essential repertoire. They'll be queueing to perform it.
"It has great melodic distinction. The vocal lines are complex and flowing, yet never degenerate to empty virtuosity. It is a wonderful piece. It's going to make a big splash."
Donald Burrows, author of the Handel biography in the Master Musicians series and the catalogue of Handel's musical autographs, said: "This is a very exciting piece. There's no doubt of its authenticity, particularly because the musical content includes various melodies and fragments we also know from other contexts of Handel's music."
Professor Curtis Price, the principal of the Royal Academy of Music, said he felt slightly embarrassed that "such an important piece was found under my nose". However, the academy houses 150,000 manuscripts and documents of international significance that have yet to be catalogued.
The Gloria will be displayed for the first time in the academy's new York Gate Collections, which opens to the public this summer.
---
The Times (London)
12 March 2001
Choral work to take the breath away
By Rodney Milnes, Times Opera Critic

It may not be quite the same as standing silent upon that peak in Darien for a first glimpse of the Pacific Ocean, but sitting in the Royal Academy of Music with one's hands on a piece of music by Handel unseen and unheard for nearly 300 years runs it pretty close.
Although not in Handel's own writing, it was copied - beautifully neatly - by one of his singers. The string and vocal lines may be in different clefs, but what the hell: clear the mind, keep calm and soon you're singing along with one of the greatest composers the world has known. I know proper journalists are supposed to avoid hyperbole, but in the heat of the moment there really are no other words to describe Handel.
This Gloria is set in seven movements and probably lasts - with a singer in a less excited mental state than I - about 20 minutes (I got through it in nearer ten). The first movement is incredibly elaborate, and fast, with a decorated vocal line that could come from any of the early operas, or indeed from the liturgical works, such as La Risurrezione (sic.) and the Dixit Dominus that the 22-year-old was turning out in Rome. One's first reaction is to wonder where on earth Handel expected his singer to breathe.
This virtuoso movement returns at the end for the Quoniam, the section to be sneak-previewed at the Royal Academy on Thursday, giving the whole composition a neat and logical shape. In between comes a Handelian variety of tempos and forms: the Et in Terra Pax movement, in gentle triple time, has the feel (or certainly the sight) of O Thou, that Tellest from Messiah, still 35 years in the future.
But the experts must be right: this exuberant, fresh composition has to date from the years 1707-08 when Handel was working in Italy. Apart from anything else, music set to Latin words is rare at any other period of his creative life.
How important is it? Enormously, given that every semiquaver by Handel is important. Whether it adds to our knowledge of his work as a whole is another matter best kept for, again, a calmer moment; this was the period when he was turning out dramatic cantatas of the highest quality by the dozen.
But whatever the final verdict, this "new" piece will give boundless pleasure to singers and players, as well as to all those who admire a composer whose stock continues to rise.
A few years ago, when the Handel House in Brook Street, Central London, was in financial trouble, it was noticed that Jimi Hendrix had lived next door. Someone on an evening paper had the bright idea of asking the HMV shop round the corner which composer had sold the most CDs. "Why, Handel of course," came the answer, which was duly published in the paper.
This politically incorrect and subversive information was suppressed in the later editions of the paper. It would not need to be today.
---
Sunday Telegraph (London)
11 March 2001
Lost work by Handel could rival Messiah
By Catherine Milner, Arts Correspondent
An unknown choral work by Handel that some music scholars believe will come to be regarded as significant as Messiah has been discovered in the library of the Royal Academy of Music.
Gloria in Excelsis Deo - a substantial seven-movement composition for soprano and strings - was discovered in a tightly-bound collection of the composer's arias by Professor Hans Joachim Marx, a leading Handel expert at Hamburg University. The work is believed to have been composed in 1707 in Rome and has not been performed since then.
Prof Marx, who is also acting chairman of the Handel Society, said: "I was very fortunate to find this music. It is something very special which happens maybe only once or twice in a lifetime for every scholar. The music is very expressive and full of effects. Perhaps not too many sopranos will be able to perform this piece."
Prof Marx discovered the work when attempting to draw up a complete catalogue of Handel's work for the German government. Several leading Handel experts have examined the piece and acknowledged its authenticity.
Dr John Roberts, the leading Handel expert at the University of Berkeley in California, said: "I am convinced that this is an authentic new work. The density of the texture together with certain rough edges suggests to me that it dates from the very beginning of Handel's time in Italy. It is certainly a major discovery."
Professor Michael Talbot, a specialist in Italian baroque music from the University of Liverpool, said: "The quality of the work is so high that it will surely join the ranks of Handel's most loved music. For sopranos it will become essential repertoire."
Handel was only 21 when he wrote Gloria. He had left Germany to learn how to write operas in the Italian style in Rome and was swiftly acclaimed a genius. Having mastered Italian opera over a period of three years, he moved to London. He remained there for most of the rest of his life, spending his final years in a house in Brook Street, Mayfair.
Gloria is believed to have been commissioned by the Roman patron Francesco Mari Ruspoli. The score was originally in the possession of Handel's friend, the singer William Savage. It was Savage's pupil, Robert Stevens, who is believed to have given the work to the academy in the early 19th century.
Professor Curtis Price, the principal of the academy, said: "This is an exciting discovery, though slightly embarrassing that such an important piece was found under my nose. The music is fresh, exuberant and a little wild in places, but unmistakably Handel."
The work will be given its premiere this Thursday at the Royal Academy of Music and then performed on June 3 at the International Handel Festival in Göttingen, Germany.
Jacqueline Riding, the director of the Handel House Museum, said: "With the discovery of this unknown work and the opening of the composer's home as a museum this November, this is an extraordinary year for Handel."
---